2PC Forged steel floating ball valve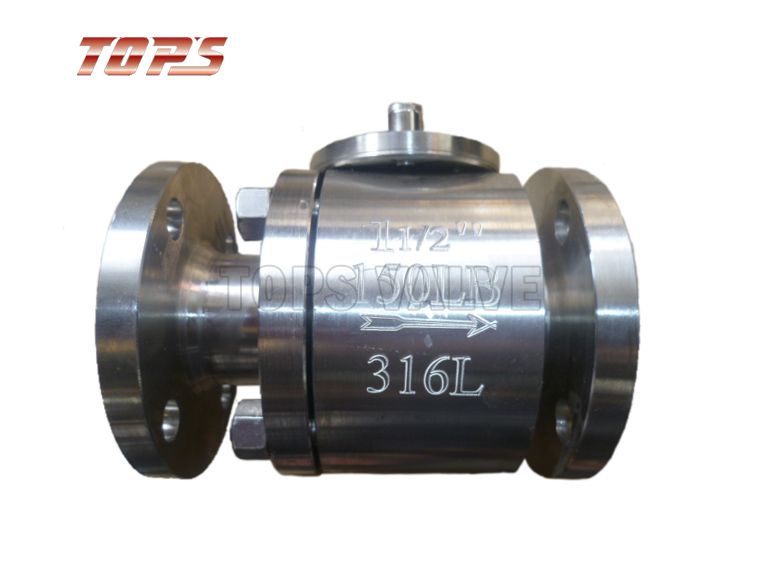 Name:
2PC Forged steel floating ball valve
OnLine Service:

Product Description
2PC Forged Steel floating Ball Valve
Design Feature
Full port or reduce port
Fire safe certified
Double block & bleed
Emergency sealant injection
Cavity pressure self relief
Blowout-proof stem
Antic-static
Optional double piston design
Product Range
2 PC Side Entry
Size : 2~6"
Rating : 150~1500LB(PN16~PN250)
Body Materials : Forged Stainless Steel
Trim : Carbon Steel, Stainless Steel, Duplex Steel
Applications:
Gas Production, Gasoline, Offshore, Oil Production, Oil Transportation, Drilling and Production,
Petrochemical Processing, Petroleum Distribution, Petroleum Production and Refining
Industries:
Gas Treatment, Oil and Gas
Standards:
ASME (ANSI), ISO, ISO 9001:2000
Misc:
Tops valve designed the Side-Entry Trunnion-Mounted Ball Valves to assure bi-directional
sealing of the valve with two independent floating seats. The design of these seats minimizes
the torque required to operate the valve without losing the sealing power. This power is assured
by zero differential pressure to the valve's maximum rated pressure. In addition, these repairable
valves are manufactured to seal off both seats at the same time and to allow bleeding of the entrapped
cavity pressure (DBB) with the ball in the closed position. The DBB feature allows for verifying that
the seats are properly sealing.
Features
Trunnion-mounted ball: Features a fixed ball and floating seat rings. Bearings absorb the side load generated
by the pressure acting on the ball.
Independent ball and stem: The ball and stem are independent to minimize the effect of side thrust from
pressure acting on the ball.
Double block and bleed (DBB): Both seats hold their respective pressure independently of the body cavity
pressure, which is ideal to verify that the seats are sealing.
Soft-seated valves: In valves designed for standard service, a resilient material is inserted into the metal seat
holder to provide a soft-seating action in addition to the metal-to-metal seating between the ball and seat rings.
Self-relieving seat rings- two seat rings assure bi-directional sealing of the valves.
Anti-blowout stem maintained because the stem is retained by the stem cover.
Optional features
Emergency sealant injection stem seals and seat face
Metal seated valves
Double piston effect seats
Extended stem and fittings for below ground service
Numerous types of body, trim, seal area overlay and seal materials available
Recommended Related Products
More information
If you have any enquiry about quotation or cooperation, please feel free to email us at sale@ballvalvechina.com or use
the following enquiry form. Our sales representative will contact you within 24 hours. Thank you for your interest in our products.
Contact:

*

Phone:

*

Fax:
CompanyName:
Address:
Email:

*

Subject:

*

Message:

*